The Contact Center Software
of the professionals
The Clarity Communication Client is designed for both business and contact center applications. Relevant contact center functionalities can be extended by the necessary plug-in. In addition to the business telephony functions, such as call distribution, the following enhancements are available.
With the Contact Center plug-in, you can perform the following actions, which will provide your employees with significant benefits in terms of efficiency and ease of use:
Select campaign
Assign hotline/campaign to subscriber
Registration for a specific campaign
Daily statistics of a current campaign
Search records
Change customer data
Resubmissions
With the help of the queue plug-in, you can get an overview of your contact center employees – supervisors or agents – in terms of their affiliation with your hotlines. Queues can be defined at hotlines and all extensions. Users can log in and out of these individually. This view is extended by the following information or functions:
Logging in or out of hotlines
Maximum waiting time
Number of accepted calls
Service level
Campaigns
Dialect statistics
The core of every contact center is Automatic Call Distribution. Each contact is automatically routed to the next available agent. If desired, customer inquiries can be forwarded directly to specific user groups via ACD, for example, according to the customer's sales territory or region, or according to the subject of the customer's request. Resources are thus used optimally and customers are served without long queues even at peak times.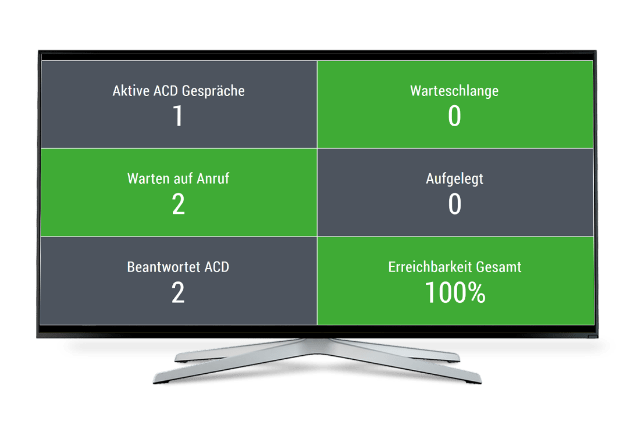 On the Clarity wallboard, you can clearly provide your users with information on the following relevant data:
Active ACD conversations
Queue
Waiting for call
Answered ACD calls
Total accessibility
Color displays give you the opportunity to draw your employees' attention to individual details (for example, number of calls in the queue, etc.).
Participants can use the Clarity Communication Client to train other participants without having to change their workstation. This can be done in the following ways: passively (the trainee can only listen), actively (the trainee and the trainer can talk to each other) or by conference call (all participants can hear each other).
With the additional application "Clarity Screen Recording" it is possible to record the screen of a participant together with the speech and to use it for quality optimization.
The recording playback plug-in, in addition to additional functions for playing back recordings, offers the possibility of complete documentation of actions of participants with recordings, searching for recordings of other participants, informing affected participants via e-mail about playing a recording that concerns them, listening to recordings via a preview function for 10s without informing users, as well as setting specific storage times for recordings.